Barca needs your support right now on Kickstarter!

While the travel version of Barca is very nice, people have been asking for a full color standard folding board version. So if enough people are interested then it's going to be manufactured and become available for sale to the public.

I think Barca has many wonderful qualities and apparently other people do too. Please read some reviews of Barca at Board Game Geek.

You could be one of those people who makes the difference by supporting Barca. Please visit Kickstarter and make that difference now.

Don't forget to tell your friends!

Thank you!
-Drew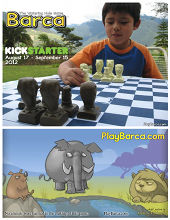 You want to help another way? Download the Barca Promotional Flyer, print it and post it. Thanks again!
Posted August 17th, 2012